Marmoleum and Linoleum
Heritage Floor Care specialise in Cleaning & Maintenance of Marmoleum & Linoleum Floors. Book a Free Heritage Floor Care Survey to discuss Your Marmoleum & Linoleum Floor Cleaning needs and learn about our 8 Step Marmoleum & Linoleum Floor Cleaning Program.
Heritage Floor Care Survey
Detail Vacuuming
Eco-Friendly Cleaning Solutions
Stain Removal
Extraction and Rinsing
Abrasive Pad Clean
Surface Protection
Burnishing
Cleaning Marmoleum and Linoleum
Marmoleum & Linoleum are designed to have a protective sealer applied after installation, this protective surface is burnished to create a glossy hard shell that absorbs abrasive damage and soiling rather than the surface of the Marmoleum.
It can be maintained for extended periods with light abrasive floor pads, and topical maintenance products.
Restoring and Maintaining Marmoleum and Linoleum
Polished Marmoleum and Linoleum require periodic stripping and re application of sealer when it had become too damaged and soiled to be restored with routine maintenance.
Marmoleum and linoleum flooring are both made from natural materials, such as linseed oil, wood flour, and pigments that are renewable and biodegradable.
They are one of the most sustainable and eco friendly floor covering options available, known for their durability, sustainability, and vibrant colours and are also highly biodegradable when disposed of.
They have some specific requirements for cleaning and maintenance that we can helpy you with.
If you would like any further information about our Marmoleum & Linoleum Floor Cleaning Services in in Edinburgh, Scottish Borders, Lothians and Northumberland, book your Free Heritage Floor Care Survey or send us a message from our contact page. You can also DM us on Facebook, Instagram and WhatsApp.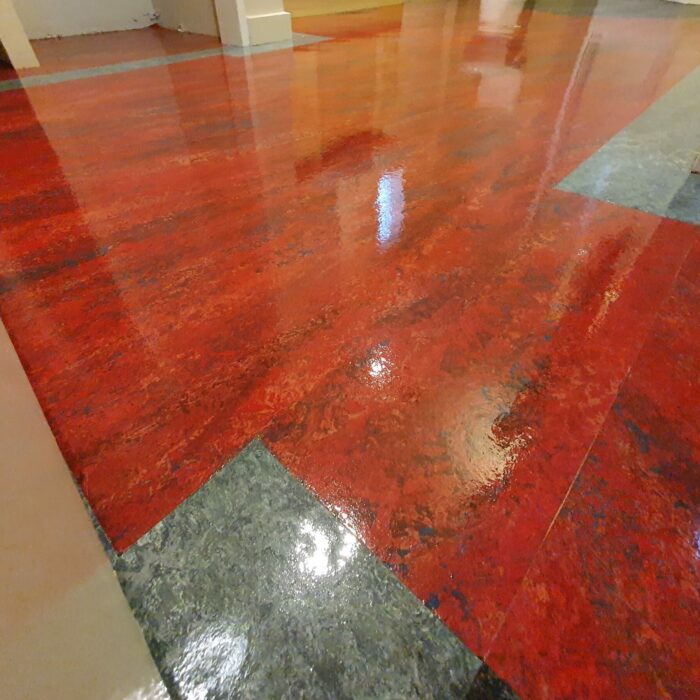 BOOK YOUR FREE
HERITAGE FLOOR CARE SURVEY

TODAY
Whatever you need with regard to marmoleum & linoleum floor cleaning, we can help.